Hey guys!
I hope everyone had a good weekend. It was a great ending to a unnaturally short (it seemed!) spring break! I honestly didn't do much over my break but just relax and work. It was nice to not have to panic about what assignment I had due that day. Unfortunately, I have two tests now that I am back from spring break and since I didn't even touch my bag since that Thursday...I am way behind! On top of that, we are having an engagement party this weekend! I'm nervous as there will be a little bit of everyone there but we are just doing a crawfish boil (YUM!) and having a very laid back get together. We have been together a long time and engaged for almost a year so this was really just an excuse to see everyone and eat some delicious cajun food :).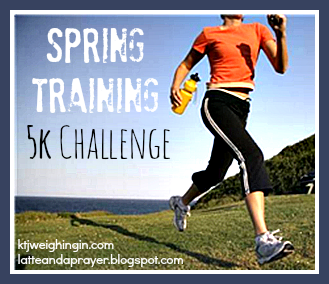 Now on to my Spring Training..although I did not make the 5 days I wanted to..I did make 4 which is still more than usual. We had a busy weekend with a wedding and two birthday outings so although after all of the alcohol, I should have ran, I did not have the energy..
I'm on Week 3 of C25K. It was very humid outside today when I went run and it literally felt like my lungs were on fire.. But I did the whole thing! Woop. Okay well I'm off to study some more.